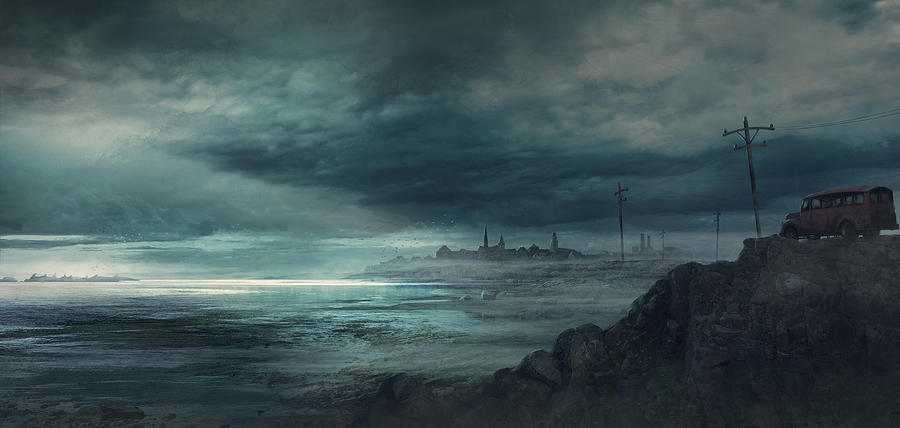 The Shadow Over Inverness

P.B.

Rohkelikko





Viestien lukumäärä

: 89


Join date

: 16.09.2020


Ikä

: 24



The Scottish winter wasn't a pleasant one, especially in those days when even the River Ness refused to freeze and the world didn't become crusted with snow as it was in the old pictures he'd seen. Every Christmas his relatives from all across the Ness area sent him lively little cards with enchanted snowflakes falling within their frames, and while everyone had convinced the boy that they were exactly like the real thing, he wasn't entirely assured. If Murdoch hadn't seen it with his own eyes, he always doubted its truthfulness, and he'd never seen the highland mountains covered in snow or the river frozen solid. It was the seawind, he'd deduced, or his home town's proximity to the salt water. The wind brought with it the warmth that crashed against the hills and poured down as a warm shower that kept the highlands bare, or so he reasoned it.

Reason wasn't his family's strong suit, unfortunately. He had tried to discuss the falsity of the Scottish winter with his mother and father when they sat down for supper, and while Meggy, - as everyone except Murdoch himself called her - had ignorantly nodded her head, trying to wrap her mind around why his son was so concerned with something like that, his father had been more straight-forward.

"Ah thought we sent ye tae magic schuil, nae a naval academy. Don't yi'll want tae be a wizard? Then focus oan yer wizardin' hings 'n' th' lik' ," he'd drawled with an accent that Murdoch seldom heard at Hogwarts. During the three years that he'd been there that Inverness drawl had become more and more alien, and while his mother considered it a good thing that erudition came easily to her son, it didn't impress many of the locals, especially older folks, namely his own grandfather, albeit he wasn't nearly as obnoxious as Murdoch's own father.

"Whit he ainlie means is that ye shuid mind whaur ye cam fae, wee Doch," the ancient man said wisely in response to what his grandson had told him. Murdoch liked that about him, even if his drawl was even worse than that of his father's. Age had loosened his lips and stretched his face in every direction, and on top of that, one half of his face was completely covered in a thick, grey beard, which absorbed much of his voice. Seeing people from other places had made Murdoch wonder why their eyes and faces were so small and tight compared to those of his local "Inverschneckers", as was the common term, but as of late he'd begun to consider that it was his family that had inherited an unusual trait. He never thought of his grampy as unusual. Didn't everyone have grandparents? Yet it became less and less as a surprise to him that grampy seldom left his lighthouse at Lossiemouth, and when he did, he never showed his face in public. It was a sight that might have unsettled some people, Murdoch supposed, though he couldn't quite say why.

On those weekends that he went to Lossiemouth to see his grampy, to keep him company and help him with the lighthouse's upkeep, he had always had pleasant conversations and learned many things that nobody else in the world seemed to know. Grampy would tell him all about his days on the seas, the places he saw and the magical sea creatures he'd handled. He even told of his encounter with a kraken while sailing near the north pole, but Murdoch found that one hard to believe. Apparently something alike to that mythical beast lived at the bottom of the Black Lake near his school, but it seldom showed itself and it could hardly survive in salt water, being so accustomed to its native lake. Even if grampy's stories sometimes took unlikely turns, they were still fun to listen to, and it was from him that Murdoch learned the art of imagination. Not everything had to be true in order to have meaning.

When he'd finished his duties for each day, grampy sent him walking to the nearby town to shop for food and provisions and all the things that a lighthouse keeper needed, living so far away from everybody else. In the midst of December that walk was a dreadful one, but he did it anyway, dutiful as he was. The oversized raincoat that smelled worn and old, like most things that grampy had in his living quarters, dragged down in the half-frozen mud. A simple charm would have made it fit him better, but it had been made abundantly clear at school that minors like himself weren't allowed to do magic at home, even less so in the vicinity of so many muggles. Rain beat heavily upon him each time he went, and it became dark early that time of the year, with hardly anything to light Murdoch's path but the spinning beam of light emitting from the lighthouse's heights. He wandered in darkness, mostly, with only the faint reflections on the waves showing him where the narrow cape of Lossiemouth ended and where to step if he didn't want to fall into the cold water's embrace. It was arduous work, walking that cape nigh every afternoon, but at each end of the journey there was a small reward. At the lighthouse, his grampy and his pleasant company, and in town the old Wilbur Whateley, a strange man for a wizard, as he surrounded himself with muggles as he made his lonely abode in that town so far from his magical kindred.
Curiously, the locals idly called him Wizard Whateley, a name that carried with it some unpleasant connotation, but one that hadn't seemed to spark the ire of the Ministry of Magic and particularly the officials who guarded the wizarding world's exposure to muggles. They probably considered it superstition on the muggles' part, and old Wilbur kept to himself so that he never cast spells in front of their eyes. It was his queer nature and the muggles' ignorance that had earned him that name, and for that reason both the Ministry and the muggles let him be, or so Murdoch had considered.

Whatever the case might have been, Wilbur Whateley knew Murdoch to be an aspiring young wizard, and always regarded him in a friendly manner. At his house, an ordinary building of English fashion that blended in well with the rest, Murdoch would stop by for tea and biscuits and learn much of both the magical and the mundane from this strange hermit of a man. Once he'd learned all about telephones and automobiles and other muggle things that old Whateley knew quite a lot about, the subjects began to drift towards the man himself, and soon Murdoch worked up the courage to ask him the questions that had quite puzzled him.

"You know, Mr. Whateley, I'm sure you could move to Inverness and be with other wizards and witches. You could come and visit my family. My father is often away at sea, but my mother would be happy to meet you. She'd be very interested to hear all about these muggles, I'm sure," Murdoch said to him once.

The older wizard had stood silent for a moment, grimacing out of the window before returning his gaze on the boy. "Inverschnecky," he began, rather ominously. "T'ain't a toun whaur maist wizardkind lik' tae shift tae. Nae since… Weel, thay shuid tell ye aboot it, whin thay see fit, nae ah," old Wilbur said, visibly reserved.

"Tell me about what?" Murdoch insisted, perhaps uncouthly when he recalled it later. In the moment he hadn't noticed his bottomless curiosity getting the better of him.

Wilbur Whateley stirred in his seat before conceding. "Aboot Obed Marsh 'n' his dealings wi' hings that oughtn't hae bin dealt wi'," the old man spoke, but didn't uncoil into one of his stories as Murdoch had expected him to, but instead remained silent and uneasy.

Murdoch could only guess that old Wilbur was referring to Obadiah Marsh, a local wizard of olden days and perhaps some ancient ancestor of his, though many in Inverness could trace their lineages back to that man, and many did, too. Who didn't want to share blood with a folk hero?

"Surely someone who saved our society from being ransacked by muggles only made profitable deals," he said to the old man, somewhat reluctantly, as the things that Wilbur Whateley now revealed to him came quite suddenly. But he had asked, and the man had answered, and perhaps Murdoch hadn't even anticipated the horrendous extent of detail into which old Wilbur would go.

The man sitting across from him shot a glance with his large, circular eyes that seemed to shake with a mix of fear and some perverse form of excitement. "Profit. Aye, profit. He made profit aplen'y. Bit whaur did it come fae, eh laddie? Where'd auld Obed bring a' thaim gold-like hings that he fun whin he flought the baoot oot tae th' loch? " he asked, but Murdoch had no answers. He rightly didn't even know what to say. His mother had some queer gold heirlooms on display, but Murdoch didn't know where they had come from, and he hadn't cared. Nevertheless, old Wilbur had already begun, except this time his stories quite frightened him, something that Murdoch hadn't grown used to.

"Weel, laddie, thare ain't hee haw at th' loch except deep water, 'n' fae th' depths o' that loch he fetched thaim hings by making mingin' pacts wi' thaim creatures. Pacts that wizard 'n' water beast oughtn't mak', bit made anyhow, 'n' then th' fishes swam straecht doon th' Ness 'n' intae th' nets. Heh," old Wilbur cackled without any signs of humor in his tone. "Pity then, - fur I've bin tellt he wis a braw young jimmy, - that this pact-makin' wi' underwater deovels wid mak' his sons 'n' daughters 'n' a' thair offspring keek lik' fishes alike thaim that feeds a' th' toun even noo. Yer' young, wee Doch, bit ah see it in yer een, tae. That streenge Inverschnecky keek," spoke the old man.

Murdoch shifted uneasily in his seat and glanced towards the corridor that led out of old Whateley's house. His urge to simply stand up and leave grew with every word that came out of the old man's mouth, but not wanting to offend him, he simply remained quiet. It was old Wilbur's remarks on his own features that unsettled him most. He'd begun to consider that his own familial traits were unusual, but Murdoch didn't take kindly to being likened to a fish.

"I…" he tried to reply, as Wilbur Whateley seemed to have grown silent while he studied Murdoch's face more closely, as if trying to find more things that he found suspicious. The boy found it difficult to focus when faced with such utter nonsense, while not seeing any hint of a jest on the unusually somber old Whateley's face. "I seriously wouldn't put much weight on old wives' tales," Murdoch squeezed the words out of his throat forcefully.

Wizard Whateley was as frightfully steadfast in his reply as Murdoch had feared. "If ainlie thay wur tales, lik' th' muggles 'n' thaim ministers doon London wey wid hae ye hawp. Whit aboot a' thaim folks ah knew that up 'n' disappeared, awright? S'pose yin nicht ye saw something heavy heaved tae Obed's folks' ships, 'n' then learned th' neist day that folks wur missing fae hame? Wis Hiram Gilmore juist a stoory? Wis Nicholas Pierce? Did a' body ever see scouk or locks o' mah dear cousin Luelly again efter thay teuk her doon tae th' loch?"

Murdoch barely even recognized the man he was talking to anymore. His often so hearty companion had leaned over the table, holding onto it with both hands, while his two bleak eyes' gaze pierced right through him. They were shaky eyes that refused to blink as they frantically told of the absolute horror that had resided within old Whateley's soul. Hidden, pushed away, almost forgotten, but ever present and now pouring out of him with unparalleled force.

"Ye don't hawp me, dae ye, Doch?" the old man coughed up a gloomy laugh, growing more and more hysterical by the minute. "Then juist tell me, young'n, how come Obed's grandsons used tae argie-bargie oot tae th' loch in th' deid o' nicht 'n' chant hings sae loud ye cuid hear thaim a' th' wey in Inverschnecky whin th' win' wis richt? An' how come wur thay droppin' hings intae th' depths aff th' side o' thair boats 'n' gettin' thaim golden thingamajicks in return? Och, a clocked a' o' that. Me 'n' mines, we used tae bide thereabouts whin ah wis a laddie lik' ye, bit ah ne'er slept easy wi' Obed's fowk running aboot. Used tae bade nichts 'n' climb up tae th' windaes 'n' keep edgy, even though mah maw 'n' da tellt me na," he resumed without stopping, and never wavering from telling this horror that didn't seem to end.

"Heh, heh, heh!" he laughed in a way that sent chills down Murdoch's spine. "Mibbie ye would've liked tae bin me in thaim days. Mibbie ye wid hae liked tae see fur yersel', lik' masell yin nicht, whin ah teuk mah da's ship gless wi' me tae kip 'n' keeked oot th' windae ower tae th' loch, 'n' saw it bristlin' thick wi' shapes that dove awa' in th' moonlight? Wi' Obed's sons screamin' fur a' th' toun tae hear while takin' a'body wi' thaim that couldn't say na. Howfur wid ye hae liked tae be a lone wee laddie spendin' nichts keekin at shapes as weren't anythin' lik' human shapes?"

Old Whateley was halfway into his final sentence, when Murdoch finally began to feel the tears welling in his eyes. Was he having a nightmare? Why did absolutely none of the things that came from this often so reasonable man's lips not make any sense to him? And why was he so scared, anyway? Whatever the old fool had told him couldn't be true, but the sheer assurity with which the older wizard had made his delivery shook Murdoch to the core. He averted his gaze from the fearsome look that Wilbur Whateley still pierced his soul with, and though he'd been glued to his chair by terror and disbelief all this time, Murdoch finally found his strength returning to his feet.

He pushed himself up off the chair. He could hear old Whateley's voice rising again into a new chorus, beginning with exclaims of "laddie" and followed by words that went into one of Murdoch's ears and came right out of the other. That voice terrified him, and he felt an instinctive and unexplained desire to get as far away from it as he could. Perhaps that was what rattled him about all of this. The uncertainty. The inability to explain any of the things that were being said, or the things that were happening, or the things that he was doing. Murdoch had always been able to stay focused on the past, the present and the future at the same time, but now he couldn't even say which was which.

As his legs carried him hurriedly down the corridor that he'd been spying for a while now, he finally pulled the door open and was embraced by the cold and damp air of a Scottish winter's night. He gasped for it eagerly, yet he never felt like whatever poison he'd breathed before would have left his lungs. Murdoch almost sprinted down the street, boots splashing in puddles of rainwater as he did. Soon he found himself breathless, but no matter how much of the foulness of old Whateley's home he tried to breathe out and replace with the outdoors' dampness, the hideous stories and the horrible images that they conjured up didn't leave him alone.

P.B.

Rohkelikko





Viestien lukumäärä

: 89


Join date

: 16.09.2020


Ikä

: 24



II


Rest escaped him with a vengeance. He would toss and turn in the loft of his grampy's lighthouse, the one place in that remote place that Murdoch had regarded as a place of privacy, safety and soundness of mind. A place where he usually felt that his thoughts were in complete alignment and harmony, and a place that now felt like a dark prison in which his thoughts raced wildly whenever he found himself unoccupied with more mundane activities.

When he found himself troubled by thoughts like this, Murdoch tended to find other things to put his mind to as a distraction, but he had to sleep. He couldn't go out in the dead of night and paint the lighthouse's walls, for there was no light, and the raging thunderstorm that now boomed across the forlorn skies and sent the wind howling through the little nooks and crannies of the old building didn't invite him to do so, either. He had little to distract himself alone in his loft, save for his diary, and when Murdoch climbed down and sat behind the small desk that barely fit in his tiny room and tried to gather his experiences into coherent words, he found himself unable.

He sat there and stared at the blank pages before him. He tried to scroll back and look at some of his past entries to recall something worthwhile to write about, but the disturbing image of Wizard Whateley's face and the chilling tale that had come from that man's lips overwhelmed him, and Murdoch quickly lost focus. The texts regarding his schoolwork became muddled in his mind and all he could make out were random words without meaning. Buckwheat. Herb. Cauldron. There must have been some connection between these things, but the sentences just seemed illegible, as if his sight was obscured by water while diving.

It didn't help that one of his entries contained a drawing of a carp with a lady's head. A silly thing he'd made once to cheer up one of his classmates, which now reminded him of something sinister that made his stomach turn. Obadiah Marsh's forbidden pacts. Pacts that had given him some profane power over the elements of the sea. Pacts that, as old Whateley had named them, were ones that wizard and creature shouldn't have made. Murdoch had tried his best to reason it, even with his fears clouding his mind. They were intelligent enough, the merfolk, capable of understanding witches and wizards. His ancestor may have simply negotiated with them. Yet the sheer terror in Wilbur Whateley's eyes as he'd told of Obadiah and his wicked offspring came back to haunt Murdoch every time he tried to put his reasonings into words, and that was when he dropped his pen on the table and buried his face in his hands.

When he heard the noise of footsteps rising up towards his room along the lighthouse's spiral staircase, Murdoch wished more than ever that sleep would finally find him. At first he thought it was simply his grampy, up late due to the thunderstorm, but when he heard talking he instantly felt that something was off. Not even that, the voice wasn't that of his grampy's, but a hoarse, guttural sound that Murdoch hadn't heard any intelligent being utter before.

"CHECK OAN TH' LAD," he thought it said something to that effect, though he couldn't rightly be certain. Nevertheless, Murdoch wasn't keen on finding out who it belonged to, not when he knew that someone, - or something, - was about to burst through his door. He shut his diary and climbed up to the loft as quickly as possible, burrowing underneath the sheets and trying his damnedest to appear to be asleep, though his racing heartbeats made it difficult.

Murdoch could only catch a glimpse of the silhouette of a dark figure against the lit staircase if he wanted to look like he was sleeping with his eyes closed tight, and while the glimpse wasn't enough to say who it was, the acknowledgement that followed surely belonged to grampy.

"Kippin'," his grampy's voice said, though it was far removed from his usual friendly tone. It belonged to someone who was tense and agitated, fearful even. Emotions that Murdoch had never associated with grampy Barnabas.

Then the door closed, and Murdoch was left alone in the dark. Footsteps receded back down the staircase. And then… nothing.

He lay there more still and for a longer time than was perhaps necessary. Paralyzed with doubt and uncertainty, a thousand questions now raced through his head in addition to Wizard Whateley's terrifying stories. It was becoming too much to bear. Who did the hoarse voice belong to, and why did his grampy seem to be liaising with them? Had grampy gone out with them, at the dead of night, with a thunderstorm roaring all around them? Not only could that not be safe, but it was absolutely bizarre!

As much as Murdoch wanted to stay there and not move a muscle, he soon found his unanswered questions clamoring in his ears. If he stayed there for a minute longer, he feared that they would eventually drive him mad. He felt his shirt soak with sweat and his head beginning to ache, and there was a distinct feeling of heat on his forehead, as if he were building up a fever. His tiny loft's walls soon felt like they were about to collapse on top of him if he didn't do something or go somewhere soon, and out of sheer will to see an end to his nausea, Murdoch slowly climbed down from the loft and put on one of his grampy's worn raincoats.
***
He couldn't see much of anything out there in the darkness and rain, and he had to trace his hand along the lighthouse's circular wall to make sure he didn't lose his step, or even worse, make himself known to grampy or the stranger that he'd spoken with. Fortunately enough, the downpour that fell upon the seawater obscured most sounds, so he didn't have to mind his heavy breathing or the sound of his footsteps alerting anyone that might have been around, and unless he crashed straight into someone, he doubted they could notice him, anyhow.

Murdoch wasn't sure whether he felt relief or increasing dread once he finally began to distinguish what sounded like the same guttural speech that he'd heard earlier, but whichever it was, that feeling was coming to him harder than ever. Intent on finding some kind of closure to all of this nonsense that he'd had to endure, the young man pushed onwards along the wall, heading towards what he judged to be the source of that voice.

"YIN OATH WE PUNT YE TAK'. YIN OATH TAE SPEND TH' REST O' YER DAYS AWA' FAE US. EVEN THAT YE HAE FAILED TAE FULFILL," the voice said, muffled by the pouring rain. As Murdoch listened, he could tell that it sounded more akin to the croaking of frogs than any sounds that humans produced.

"NOO YOU'LL TAK' TH' SEICONT 'N' FACE THAT WHILK YE OUGHT TAE HAE FACED A LANG TIME AGO. NOO YE WULL SERVE TH' LAMIAI," the inhuman croaking continued, and though Murdoch now had confidence that he could make out words and sentences to eavesdrop on, the hopeless and familiar voice sent his imagination whirring all over again.

"Don't let them. Don't let them, I'm begging! I'll never tell nobody nothing again, I swear!" an old man screamed. The realization that dawned upon Murdoch frightened him more than anything else that had transpired on that terrible night. It was Wilbur Whateley's voice.

His eyes had begun to adjust to the darkness just so that he could make out something that appeared to be human shapes against the sea's crashing waves, their outlines becoming clearer for mere seconds as the lighthouse's beam passed by them. One of them was on its knees, the other one stood a short distance away. And the rest… He couldn't rightly count them. There must have been six. Eight. Now twelve. He lost count each time he tried to name a number, distracted by the increasing throbbing in his head and the miserable wailing that came from old Whateley's lips.

"Ye broke th' oath, Wullie. It's th' rules," a somber, more human voice answered. It must have belonged to grampy. Something in that voice gave Murdoch the feeling that he was about to do something very regrettable.

"Never again, never!" old Whateley kept crying out.

"TH' SEICONT OATH," one of the many croaking voices said. "YE KEN TH' WORDS. SWEAR BY TH' LAMIAI."

"Can't ye see," the desperate old man's voice shrieked in the darkness. "Swearin' ain't gonnae chaynge hee haw. T'aint whit yer daein' that's messed up, bit whit you're aff tae dae! Na amount o' fish doon th' Ness isnae aff tae stoap thaim deep yins from… "

"SILENCE," a monstrous voice howled right back at him.

"They're aff tae dae awa' wi' a' o' us juist th' same, whin they're duin, 'n' whin they're willin' tae fash!"

Murdoch felt his skin crawl when the hideously frog-like noises joined together in a cacophony of unearthly screams and shrieks, and he felt a primal urge to glue himself to the lighthouse's wall. What kind of creature could summon such hellish tumult from the depths of their bowels? They didn't sound like men, nor frogs, not even like any outlandish beast that he'd encountered in his magical creatures' classes. The guttural roars and shrieks filled Murdoch's ears, and just as they arose, so did the rain seem to pour down harder. What he originally thought must have been a thundercrack turned out to be something far more sinister. It was as if the thundercrack had lasted for seconds, then minutes, and then Murdoch understood that it wasn't the thunder at all, but the rushing of a gigantic wave rising from the ocean and heading their way.

This would be the end, Murdoch realized as he hugged the lighthouse tightly and watched as the rising wall of seawater obscured the stars and laid its shadow upon them all. This was how he'd die. Alongside Wilbur Whateley, claimed by whatever apocalyptic demons that the old wizard had tried to warn him of, but into which Murdoch hadn't wanted to believe. Now he would pay the ultimate price and be lost forever. His swollen corpse would sink into the bottom where the crabs and crustaceans would feast upon his remains, and there would be nothing left to remember him by. Nobody to know how Murdoch Olmstead had died, where it had happened and how.

The wave came down.

But instead of eternal darkness, Murdoch woke up in his own loft to the red rising sun shining its early rays upon his face. At first he thought that he must have dreamt it all, as lifelike as it may have felt. But when he went to grab his raincoat and found it soaked alongside his shoes, he swallowed the frog in his throat and hurried to glance out of his window. No grampy. No Whateley. No signs of a flood, nor of croaking monsters.

He had his doubts, but for now, he would quite gladly distract himself by believing that he had been sleepwalking. As long as that distraction would hold up, anyway.

P.B.

Rohkelikko





Viestien lukumäärä

: 89


Join date

: 16.09.2020


Ikä

: 24



---
Oikeudet tällä foorumilla:
Et voi
vastata viesteihin tässä foorumissa